This bug really burns me, because it's been around forever, and Apple just isn't doing anything about it.
Anyone who has used Apple Mail for more than a week has seen the following dialog box: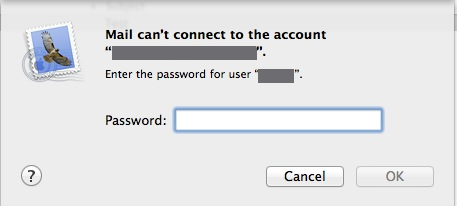 Of course, the natural response is to obey and type your password.
Don't do it. 
Here's why:
There are a half-dozen or so reasons why a mail transaction will fail. The mail server may be busy, hung, or dead. Your Wi-Fi may be down or your ethernet cable may be loose. There could be a network interruption in the greater internet somewhere between you and your mail server. Or, you could actually have supplied the wrong password for the account.
Unless your mail account is brand new, or you recently changed your mail password, the probability that this last choice is really your problem is vanishingly small.
However, that's not Apple Mail's opinion. "Couldn't contact the server? Oh no, it has to be a bad password!" So Mail puts up this dialog box, inveigling you to type in your password again.
There is no upside to complying with this request. 
There are two probabilities here that absolutely dwarf all others: you will type in your password correctly, which won't solve anything because your password was never the problem; or you will type in your password incorrectly, at which point you have now compounded your original problem by layering a worse one on top of it.
The real joker in the woodpile here is that one of the biggest reasons for typing in your password incorrectly is because you have actually forgotten your correct password. Now, a lost mail password can be retrieved using Keychain Access on your Mac… unless of course you have just overwritten it with a bad password because you responded to this idiotic query from Mail.  😡
The good news is that if you avoid thrashing at this juncture, you can still recover. Mail stores the POP/IMAP (incoming) account password separately from the SMTP (outgoing) account password, and in almost all cases known to man, they are the same password. Use Keychain Access to view the one you haven't yet damaged, and beat this particular reaper.